Joined: Thu Dec 20, 2007 4:56 pm
Posts: 8
Location: dago
woe is us "late" econopilots......
i know, I know, the flat nose models are way cooler. Had a couple, 240's.
All the jolly sport w/ the shift linkage (stick) and the pogostick like ride.
i LIKE them dont get me wrong......but my 80 is way more truck, as in heavy friggin duty. Coil springs, twin Ibeam....I like it, the nicer ride of coil springs & the straight forward, mechanically sound kingpin arrangement.
Serious frame. And, of course, the Mighty 300, world class gas truck engine.
But we get no respeck. Over at Ford 6 .com, its overrun with pickup types. How common.
And we suffer in things like findin replacement window channel & other unique to Econo's stuff.
But we got king hell trucks, king hell work horses, king hell haulers.
mutt, 80, offenhauser, motorcraft 357cfm 2bbl, chev rockers, bowl work & port matching, Cam plus 4', FI ex thru a cherrybomb, OD stick, 3.10 (or so) 7.00x15 8 plies.
ive had lotsa trucks. Many older, many prettier....but this is the best.

Joined: Mon May 12, 2008 11:36 am
Posts: 8
Location: Saskatoon, SK, Canada
Hey Mutt! I'm fuddling along with my 64 Econoline Falcon van, new this year. I actually have some window fuzzies coming in the mail... there are some parts to be had! Cheers.
_________________
sasktrini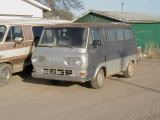 '64 Ford Econoline E100
Show the "Car Guys" by joining the
Vanners Group on CarDomain